Highlights from the latest cruise: CSR 9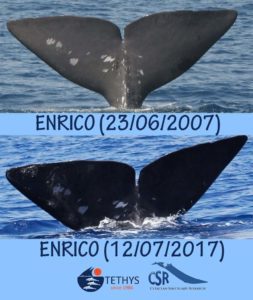 Some highlights of the cruise from 10th to 23rd June:
The researchers and participants on board Pelagos listen "live"to the sperm whale Pm009, near the canyon of Imperia.
After a day at sea, researchers and participants work on the "matching" (the tails of the fotoID-ed sperm whales are compared to those in the"catalogue" in order to find out if any known individuals have been re-sighted). One of them actually turned out to be an old friend we got to know ten years ago: Henry. This is an important record confirming the site fidelity of individual whales.
Sperm whale number 10 of the season was spotted in front of the Cote d'Azur (France)
Another interesting re-sighting of a sperm whale, was Nicola, recognized after 9 years.
A nice sighting of common bottlenose dolphins, close to the shore, which is quite typical for this species.
At the end of this week the very young english students of the Summer School Camp Lewes Old Grammar School got their well deserved participation certificates. Students who had sighted the most species were awarded with a painting of the captain Paolo Pinto.
Thank you all for helping research and conservation of our seas!
Follow #morethanwhalewatching  #CSR on our socials